Articles

My own personal refugee story, way back in the 1950s, came back in a sudden flash of memory while I was shopping for our local food bank, just before Christmas, and inspired me to write a piece for The Guardian.
How many of us wish we had a handy little zapper that we could carry around, to get rid of all unpleasantness and annoyances in every day life? But our politicians have real zappers - is there a danger they could take it too far? After a particularly stressful week in December, I explored this fantasy in a piece for The Independent.
Mslexia prize
I've been judging the Mslexia novel writing prize this autumn, and have very much enjoyed reading so many inventive, clever and well-written novels – I hope some of them find their way into print, and reach the much wider readership they deserve. I'm not at liberty to announce the winner yet, but many congratulations to all who go through to the longlist. It was very hard choosing the best of such a good crop.

UKRAINE has been very much on my mind recently, and I have contributed two articles to the Guardian:
Ukraine and West: Hot air hypocrisy and Optimistic young Ukrainians

Should we bomb Syria? Hold on a minute I've been letting off steam in the Independent again. I wrote this in a fury when I thought we were about to bomb Syria.
This one is a response to the periodic episodes of foreigner-bashing which seem to be becoming more frequent, probably because of the recession. I wrote it earlier but I think I forgot to post it last time.
THANKS TO all of you who've written to me via my long-suffering agent Bill. One of these days I'll get a link set up on this website, but I'm afraid I'd then spend all my time writing letters and never get another book written. Thank you especially to Becky Gottsegen who sent me a picture of herself with her wonderful, sad, almost-human sculptures of the human condition.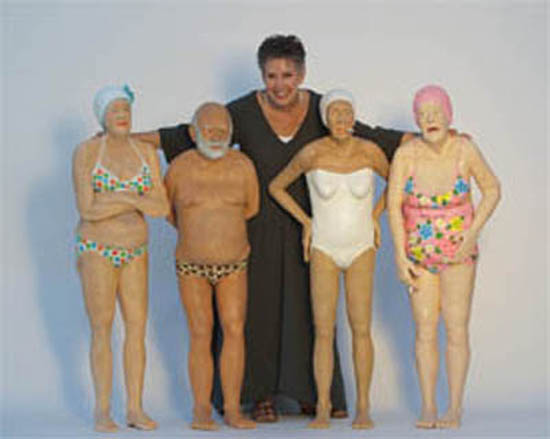 AND FINALLY ...
I was fascinated by this article in the Guardian, which revisits the area of Kiev where I walked with Victoria and Sophia in October 2011 (see below) and was appalled by the ugliness of the plutocrat mansions springing up. I even took a photo. It's sad to see Ukraine becoming another country where money rules and other values are squeezed out.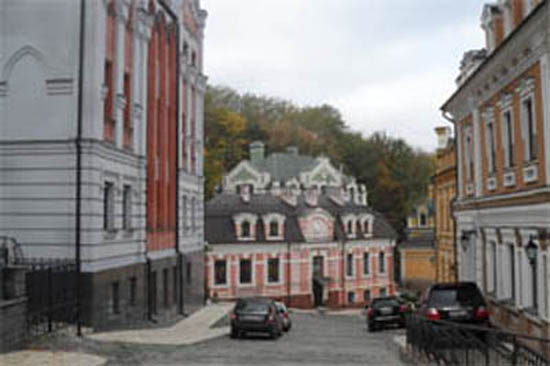 In praise of Karen Murphy, pub landlady extraordinaire

Review of Andrei Kurkov's The Milkman in the Night, published in the Financial Times 29th July 2011

I feel both British and European. Europe is a subject close to my heart. I wrote this piece for the Independent, though the sub-heading (which I didn't write!) accuses David Cameron of being a bully over Europe - actually, it's the tabloid press whom I accuse. And where oh where did they dredge that photo up?
The Mill on the Floss
I felt very honoured to be asked to write the introduction for a new Vintage Classics edition of the Mill on the Floss. George Eliot's Middlemarch is possibly my all-time favourite book, but I have a reason for feeling special a closeness for The Mill on the Floss.
Read more
Letter to Miss Mitchell
In October, Michael Gove admitted that he'd been pretty obnoxious at school (why am I not surprised?) His letter of apology sparked a flurry of other letters, including mine to my former Modern Languages teacher, which were printed in the Guardian.
Dear Miss Mitchell

I'm glad to have this opportunity to apologise for having been such an absolute little cow, during the years you taught me German, French and Russian at Witney Grammar School. Although you are now at rest in the great Staffroom in the Sky, I still feel a pang of shame when I recall how badly I behaved during your lessons. I remember your patient sigh when you caught me inking in little black spots on my legs below the holes in my black tights, or painting on pearlised orange nail-polish under the desk. You pretended not to notice my CND badge, banned on school premises, or the whiffs of cigarette smoke that lingered in the girls' toilets. I hope you never read any of the cruel notes my friends and I passed around in class, commenting on your appearance, and speculating on your love-life. I felt ashamed when I learned, afterwards, that you'd lost your fiancé during the Second World War, and teaching us became your life instead. I would like to thank you for your perseverance, and to let you know that you were doing a much better job than we ever let on at the time.

I want to reassure you that despite the bored pout, a lot of what you taught me was actually sinking in, while I appeared to be gazing blankly out of the window. As you must have guessed, at heart I was always a little swot, and at home in private I practised those strange gargling sounds you taught us, and memorized the Lorelei song, and long passages of Phèdre and Evgeny Onegin.

And thanks to you, even after all these years, I can still pull off a cool subjunctive, which impresses the Frenchies no end.

I hope the angels in heaven are now practising the Lorelei song and learning to gargle.

ДО CВИДаНИЯ, Auf Wiedersehen, A Dieu,

Marina

Totnes is one of my favourite towns in England, and fiercely proud of its independence. This article for the Independent celebrates its struggle against Costa Coffee.

This year is the anniversary of Tolstoy's death. A number of contemporary writers, including me, contributed to this piece in the Guardian about his lasting influence.
http://www.guardian.co.uk/global/2010/jan/06/leo-tolstoy-greatest-writer

This week
I've been reading: Sandy Tolan's moving and painstakingly researched The Lemon Tree about the meeting between a Jewish woman settler and the Palestinian brothers who had lived in the same house before the Israel occupation. I've also been reading Dad's Mad, a blook (yeah, how cool is that?) by brothers Alan and Michael Cleaver: 'The terrifying but true account of how Dad spiralled out of control into hypermania, jetted around the world, got scammed left right and centre and spent £70,000 in just 12 months.' He also built a number of aviaries and killed or lost dozens of canaries.
I've been watching endless clips from YouTube, emailed to me by my dear husband who is 'working' in the next room. I can see that the nation's economy is grinding to a halt as this scenario is repeated in offices all around the country. I've viewed the trailer to Sicko, The Kiwi National Anthem with names of famous All Blacks players substituted for the words, grainy Soviet-era videos, Looking for my wallet and my car keys (a song about ... er ... people of my generation getting absent minded and losing things), and the Helsinki complaints choir. Hopefully he'll soon grow out of it.

I was introduced early to The Mill on the Floss, because as a child I lived in Gainsborough, Lincolnshire, which is said to have been the model for St Ogg's, where this novel is set. We were given selected excerpts to read at school, and told that we should be honoured and respectful that our small nondescript town had been touched with the magic wand of Literature.
Perhaps that should have put me off for life, for as a twelve year old I struggled with George Eliot's prose, yet in spite of that I can remember being captivated by the story of the brother and sister who clashed bitterly yet were finally reunited in death, drowned in the fearsome river that still surged around the outskirts of our town. I identified with Maggie, the stubborn dreamy heroine, her nose always stuck in a book, desperate for approval and love. Like me, Maggie couldn't do anything with her hair, and had 'problem' parents, her well-meaning suffocating mother and her kindly but obdurate father who brings the family to ruin. I say 'like me' for I didn't realise at the time that this was George Eliot's gift as a writer - to reveal the universal within the particular. I thoroughly sympathised with Maggie's attempt to run away from home - in fact I once tried something similar myself - and I was enchanted by Bob Jakins and his dog Mumps. But above all, it was George Eliot's quick precise sketches of the Lincolnshire countryside, the river, the willows, the "delicate bright-green powder softening the outline of the great trunks and branches that gleam from under the bare purple boughs", "the great chestnuts in blossom, and the grass all deep and daisies" that drew me in.
It wasn't until I revisited The Mill on the Floss, some ten years later, as a student, that I realised how much I had missed on that earlier edited reading. As school-children, George Eliot's 'philosophy' had been considered too difficult for us, and we had been given only the story to read. Now I saw that, alongside the story, the novel was brimming with ideas, with wisdom, with dry humour and pearls of insight. It was the 1970s, the birth of the women's movement, and one thing that struck me at that time was how much George Eliot had anticipated and articulated the struggles of women to be treated as the equals of men. When Maggie's father chooses to send her dull brother to school in preference to bright bookish Maggie, he says, "... an over-'cute woman's no better nor a long-tailed sheep - she'll fetch non the bigger price for that." And towards the end of the book the lawyer Wakem uses another 'livestock' metaphor: "We don't ask what a woman does but to whom she belongs." Just as shocking to the feminist reader is the casual acceptance by both Tom and Maggie of their unequal situation. "I've got a great deal more money than you because I'm a boy," says Tom.
If my feminist sympathies saw Maggie as a model of a modern woman trapped in an outdated and stultified social order, my post-1968 radical sensibility warmed to George Eliot's critique of the narrow-mindedness of provincial bourgeois society, where religious allegiance "appeared to run in families, like asthma" and where "the worst that could happen (is) not death but disgrace." The scene in which Mrs Tulliver, humiliated by her husband's bankruptcy, must face the ignominy of her more fortunate sisters poring through her linen and silverware and deciding which to buy at auction is a remarkable metaphor of the way our possessions come to define us. The Dodson ladies are concerned less by their sister's suffering than by the shame of seeing property marked with the family initials sold into the hands of strangers. Yet George Eliot's gentle mockery of the complacent St Ogg's society seemed fresh and relevant in the seventies not because she predicted the great social upheavals that would follow, but because her observation of enduring human foibles is so acute.
Now many years later, re-reading the Mill on the Floss a third time, this time from the perspective of an author, I am awed by the feat that George Eliot has pulled off . This is a remarkable work, which can be enjoyed on many different levels, and remains as engrossing and moving today as when it was written.
The Mill on the Floss was George Eliot's second novel,and was a huge best-seller when it was published in 1861. Was this despite or because of the way George Eliot draws together the individual human narrative with the wider social and national picture, I wonder. The book is heavy with philosophical digressions in a way which few modern authors would get away with. Yet George Eliot does, in part because the moral lessons are utterly and convincingly rooted in the nature and behaviour of her characters,and partly because of the wit and passion with which she writes.
The opening chapter leads us straight into the perspective of a first-person narrator, a narrator who nowhere appears in the story except as an authorial voice which regularly interrupts the narrative to direct and guide the reader through the moral lessons she has prepared for us. At various points in the book another voice interrupts, the voice of 'St Ogg's' or 'good society' or, as she cuttingly describes it, 'the world's wife', for George Eliot observes that it is usually women who are the social and moral arbiters, inclined to pass judgement on their fellows. These two voices provide a contrasting commentary on the central story of Tom and Maggie, yet so compelling is the narrative that the moment George Eliot enters into the thoughts of a character or the description of a scene we are there with her, as though we had never digressed.
In Book 4, Chapter 3, George Eliot addresses this writerly dilemma directly, in a long passage describing the 'tone of emphasis' the author is apt to slip into in writing 'the history of unfashionable families'. This 'tone of emphasis ... is very far from being the tone of good society ... no subjects being eligible but such as can be touched on with a light and graceful irony." Her passionate polemic on the author's right to tackle 'unfashionable' subjects is one which I carry in my heart every time I sit down and face a blank page. "But good society, floated on gossamer wings of light irony, is of very expensive production, requiring nothing less than a wide and arduous national life condensed in unfragrant deafening factories, cramping itself in mines, sweating at furnaces, grinding, hammering, weaving under more or less oppression of carbonic acid - or else, spread over sheepwalks and scattered in lonely houses and huts on the clayey or chalky corn-lands where the rain looks dreary. This wide national life is based entirely on emphasis - the emphasis of want ... it spends its heavy years often in a chill, uncarpeted fashion amidst family discords unsoftened by long corridors."
George Eliot does not shy away from 'emphasis', but she is also a mistress of light irony. The domestic detail, household clutter, hair and clothing fashions, figures of speech, that she describes with such amused relish are always more than just a catalogue of objects and styles, which would be meaningless to a reader a century and a half later. Through the prism of George Eliot's passionate commitment to the moral purpose of literature, they become the colours in a rich and subtle palette with which she paints for us a portrait of ourselves. It is George Eliot's ability to move fluidly between the 'wide national life' and the 'family discords' that makes her such a skilled and delightful chronicler both of the large picture and of the minutiae of the human soul.

---
Articles page one | Articles page two >>| Articles page three >>