We Are All Made of Glue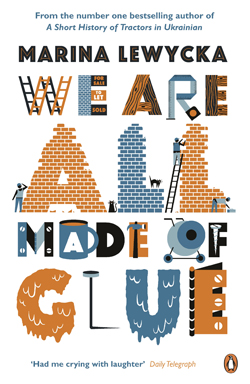 Georgie Sinclair's husband has left her; her sixteen-year-old son is busy exploring fundamentalist Christian websites and becoming more distant by the day; and all those overdue articles for Adhesives in the Modern World aren't looking too appealing either. So when she spots Mrs Shapiro, an eccentric old Jewish émigré neighbour with an eye for a bargain and a fondness for matchmaking, rummaging through her skip in the middle of the night, it's just the distraction she needs. And although they mistrust each other at first - Georgie doesn't like the look of that past-its-sell-by-date fish while Mrs Shapiro thinks it's prize produce - a firm friendship is formed over the reduced-price shelf at the supermarket.
So when two slimy rival estate agents (one with a taste for bondage) start competing to trick Mrs Shapiro into selling her rickety old mansion, home also to seven stinky cats, Georgie must step in and help her new friend. Along the way she uncovers the long buried mysteries of Mrs Shapiro's past ...
Review in the Jewish Chronicle Jan 2010
JEWISH CHRONICLE
"Marvellous merging of voices and stories"
THE SCOTSMAN
" an adult writing for grown-ups."
"compulsive reading that at times makes you laugh out loud"
The Scotsman
" an adult writing for grown-ups." "compulsive reading that at times makes you laugh out loud"
NEW ZEALAND HERALD
"She brings both Jews and Palestinians together in a big, crumbling London house and proceeds to send up both factions quite mercilessly."
New Zealand Herald
NEW STATESMAN
"addressing serious themes with an admirable lightness of touch and acute sense of humour."
New Statesman
THE OBSERVER
"What is appealing about Lewycka is that she refuses to deal in victims. While her humour relies on a caricatured battle between the weak and the strong, she resists the temptation to romanticise her more vulnerable characters. Her foul-mouthed, fag-smoking cast of old ladies goes a long way to redressing the soapiness elsewhere. And in a novel bursting with elderly eccentrics, Naomi Shapiro, and her bedraggled retinue of cats, stands out as a glorious vision of anarchy and autonomy that even ageing cannot quell."
The Observer
This lovely little video about We're All Made of Glue appeared on German television - it helps if you understand German!